20m CW QRPp RTX
This is a preliminary page showing a tiny RTX for 20m that is built using almost only digital ICs.
A proper description of this homebrew transceiver will be published, some day. I have had one successfull QSO I<->HA on 20m using a 2.8m long center-loaded vertical antenna on my balcony, and another with EO1I during a major CW contest. Estimated output power is 100mW.

(click for a larger -200kbytes- version)
Power Increase mod
VXO + XIT mod
Further development of this tiny but performant rig led me to add a VXO with automatic XIT. The circuit surrounding the first NOT gate shown above has been changed into this: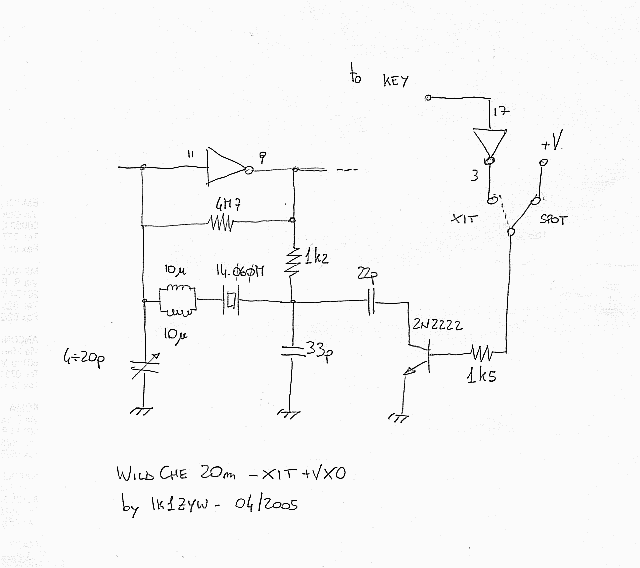 With the modification shown above I achieved approx 14052 to 14061 kHz frequency agility, with an almost constant 700-1000Hz XIT shift over the entire tuning range.
---
© 2005, Paolo Cravero IK1ZYW

Eccetto dove diversamente specificato, i contenuti di questo sito sono rilasciati sotto Licenza Creative Commons.
The material on this page is licensed under a Creative Commons License, unless otherwise noted.