External Keypad: build.
The IK1ZYW keypad is a homebrewer project: you have to build it (or have someone do it for you). The schematic diagram and free firmware are available through these pages and in the User's Manual.
In order to build the keypad you will need the following:
basic soldering skills and tools
User's Manual and firmware from the Downloads page
a way to program the firmware on an Atmel ATtiny2313 (read on)
required components
In case you prefer not to deal with programming the microcontroller or have troubles sourcing all parts see the "Get it" page for further details.
Here you are the schematic diagram (click to open/download the image):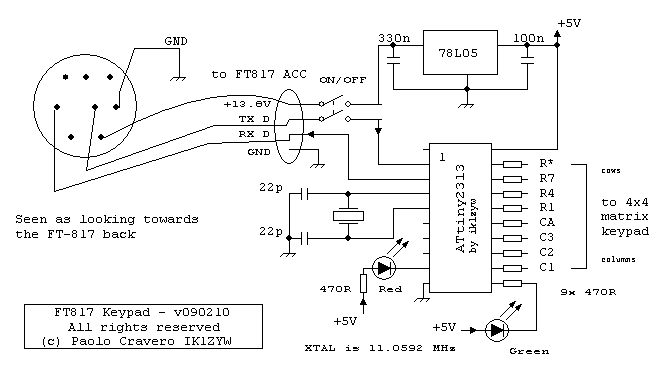 Parts list is as follows:
1x ATtiny2313-20PU
1x 20 pin DIL socket
10x 470 ohm ¼W
1x LED red
1x LED green (optional)
1x 11.0592 MHz XTAL
2x 22pF (or 27pF)
1x 330nF
1x 100nF
1x 78L05
1x Matrix 4x4 keypad
1x 1m cable 3 wires + shield
1x MiniDin8 plug
1x 10x5 cm perfboard or PCB
1x DPDT switch (optional)
You are encouraged to use 8-way pin headers for connecting the matrix keypad to the circuit board.
The circuit is very simple and takes power supply from the ACC port of the radio. Labels shown towards FT817 ACC port match those of the radio User's Manual. Eight wires to a 4x4 matrix keypad are labeled according to the first matching key in the row/column. DO verify with an ohm-meter which lines are connected at each key press. In other words: draw the connection map of your flavour of keypad before connecting it to the chip.
LED and its resistor can be left out. The ON/OFF switch is also optional, but helps to reduce power consumption and/or RX interference (if any): otherwise there is no other way to reset or switch the keypad off than unplug it from the rear of the radio.
Further details on assembly and chip programming are detailed in the User's Manual.
Copyright © Paolo Cravero.
Eccetto dove diversamente specificato, i contenuti di questo sito sono rilasciati sotto
Licenza Creative Commons
.
The material on this page is licensed under a
Creative Commons License
, unless otherwise noted.